Running around Westfall, the not-quite-so-noob zone of World of Warcraft, killing some of this and a little of that, cursing my ineffective skills, watching the dumass paladins skid across the dirt after being schooled by the Defias Brotherhood, when all of a sudden I see that … I've Got Mail!!!
Hot damn, better stone back to the outpost and open that bad boy up … could be some noob piece of shit equipment from a guildmate: something (anything) to make my third assault on Westfall a bit more pleasant. How about some money? Money is always a welcome gift, in game or out. Health, mana, defense, agility potions, all welcome, too. Why, it could be anything!
Ya, I was dreaming.
Just another fucking stalker email from my druid trainer.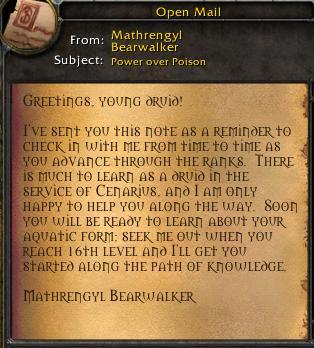 What is with that creep? All the time with the "encouragement" emails. "I'm so proud of you, FotonDruid", "Good going on slaying that level 12 mutant owl!", "I knew you could do it!" Jesus.
Next, I expect he'll start offering candy and video games if I help him find his lost puppy.
His boss, the arch druid, is no prize either. That jagoff is so tightly wound he must have an alarm clock up his ass. The quest reward has to be damn incredible before I go talk to His Highness, The Arch Druid, and I don't care if I'm never revered with Darnassus.
It's the summer doldrums. Nothing new on the horizon and the old stuff is, well, getting old. The guild has been sliding down that slippery slope towards full-on End Game Raid Guild with mandatory attendance, complex DKP spreadsheets, and a whole lotta work for a whole lotta nothing.
Because this is the way of the MMOG End Game. I suspect this is a money decision (and aren't they all?), because who in their right mind would think … hey, they've enjoyed small group raiding and soloing up to this point, I bet they'd just LOVE trying to spread 10 pieces of loot across 8 groups of players after a few hours of intense playtime!
I have to admit though, I do enjoy the after-raid drama when people log off in disgust over whatever system was used to distribute the uber. The only thing better is next-day drama but that's much more rare, obviously. People have to be pretty worked up to keep the arguments going the next day.
Heh, I love the guild peacemakers that try to sooth everyone's outrage over Billy Bob Warlock getting some dagger that Sally Mae Warlock has been waiting for, gosh!, FOREVER. They don't really help and, I'm guessing, they just do this peacemaker shit to keep the drama alive and thriving … and may I say, it works very well.
Man. Nobody gives a fuck except Billy Bob and he needs to learn to stfu before he finds himself on the outside looking in. We've all been dicked out of loot, Billy ain't the first or the last.
Although, if not for gossip, rumors and arguments, there wouldn't be a whole lot going on at raids except: pull, kill, loot, wait for mana, move. Unless you're a healer, then the raid is: buff, heal, heal, heal, heal, heal, oom, heal, oom, heal, oom, loot, wait for mana, move.
Awww dammit, forgot about that healer part. Now I'll have to remake FotonDruid into FotonWarlock. Hell, I'd like a chance at the dagger myself.