Look what I found, cleverly buried in one of the NPC speeches in Guild Wars!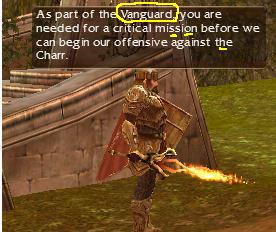 Obviously, that's bought-and-paid-for product placement for the (maybe someday) Vanguard: Saga of Heroes. See how sneaky they were in hiding the S O H??
Man, this is how the hype starts: subliminal advertising — next thing we know, we're preordering and using character calculators to map out our skills. DAMN THOSE MARKETING DEPARTMENTS!
Or, it could just be a coincidence.