Monthly Archives:
November 2004

Is it me? Or is this stupid?
I have this e-friend — known him since way back, maybe 6 or 7 games ago. He has a saying, "You can really tell a lot about a game by how it treats the clerics." I've come to realize over the years, this is dead-on gospel.
Which brings us to Warcraft, that I may start referring to as Warcrash — because me and this game, our love affair is fast coming to an end.
I volunteered to take one of the mandated priest positions in my WoW guild, well, mostly because everyone else already called rogue or shaman so the guildleader was screaming that he needed more priests. We do have one warrior in the guild, apparently that class really sucks.
Happy Thanksgiving, all you gamers that wanted to play World of Warcraft over the long weekend!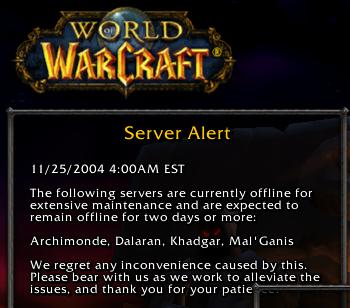 Take heart, it's not as if the rest of us are playing much WoW either.

I went LD riding their crapass zeppelin to another continent. How pissed am I?